Destination Levi
In the remotest corner of the North, on the other side of the Arctic Circle, is Levi- a centre for year-round experiences. This resort is a blend of Lappish exoticism, high-quality accommodation and a carefully developed range of services. Levi offers a real winter which is guaranteed with snow from November to May, a fantastic Christmas season with Santa Claus and his reindeer, a wide range of activities from safaris to well being services, the ancient Lappish culture and the pure, wild nature combined with world-class services in a modern resort. Levi is located in the Fell Lapland, in the middle of pure nature and large wilderness areas. Levi Fell village is a holiday town, which offers a wide range of first-rate services to its guests!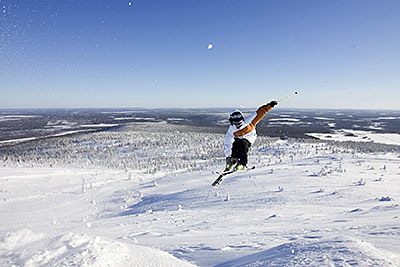 About thirty years ago, Levi was considered to be a cold, dark and remote destination. Levi has managed to turn this impression on its head – the coldness now guarantees a real winter with snow, the darkness is an exotic and magical experience and a flight from Europe to the modern Kittilä Airport is facile, whilst the transportation from the airport to Levi only takes 15 minutes.
Over the last decades Levi has developed from an unknown small-scale ski resort into a leading winter travel destination in Finland and one of the strongest in Europe. The growth has been rapid: in 1988, there were approximately 3 000 beds at the Levi resort, whilst for the upcoming year, this number has increased to 23 000 (2011).