Harriniva
Excellent selection of programme at Harriniva
Harriniva Hotels & Safaris was established in 1973. This family run business has accommodation facilities all around North West Lapland, however, we are best known for our excellent selection of programme. We offer these all year round services for all age groups and skill-levels in all our locations at Harriniva Holiday Centre, Hotel Jeris, Hotel Kittilä, Fell Centre Galdotieva, Vuontisjärvi Wilderness Centre and Polar Flight. Flexibility and reliability are the key words in all our services!
Locations
Harriniva Holiday Centre is located in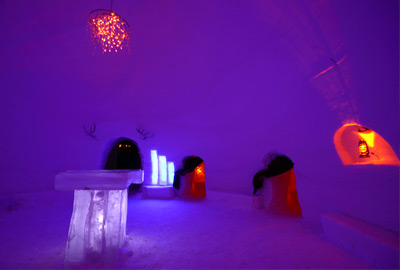 Western-Lapland, near the Pallas-Yllästunturi national park, 3 km South from Muonio village and 1hr from the Kittilä Airport. It is beautifully set alongside the Muonio River, surrounded by forests. There are 64 comfortable wilderness style hotel rooms and 28 cabins. Restaurant Harriniva (230 seats) and Kota-restaurant Aurora Borealis (80 seats) offer great culinary experiences with Lappish specialities. There are also several outdoor dining options in our wilderness cabins and tepees. There are two meeting rooms in the hotel (70+20 places) and three saunas. There is also a camping area with full services. We have one of the largest husky farms in our premises, with over 400 huskies!
Hotel Jeris is a unique Lappish resort in West Lapland. It is the perfect location for anyone wanting to get away from it all. It is set deep in the forest, close to the Pallas-Yllästunturi National Park, overlooking the beautiful Lake Jerisjärvi. It is an ideal place for an activity holiday close to the heart of unspoilt nature. Accommodation is offered in 26 comfortable hotel rooms and 40 well equipped log cabins (all have a sauna and fireplace). A wide range of nature activities are available all year round for individual guests and groups. After an active day, the lakeside JerisSpa provides the guests with the chance to experience complete relaxation with its' 2 hot pools, 2 saunas and a traditional smoke sauna. The scenic restaurant, Jierra, offers stunning views over the lake (for groups and private functions). In winter, you may try the 25m long ice pool on the lake.
Hotel Kittilä is located in the centre of Kittilä village, only 15 min drive from the airport. It is ideally situated to make the most out of the services of Kittilä and Levi ski resort and offers a diverse and exciting range of nature activities. Hotel Kittilä has 37 rooms with their own private shower and WC, TV, telephone and radio. Guests also have use of a sauna and pool. Hotel Kittilä is an ideal location for meetings for up to 50 persons. The hotel restaurant offers both traditional Lappish and international cuisine.
The Fell Centre Galdotieva in Palojärvi, next to the Norwegian border, has a restaurant, a small shop, a petrol station and 10 cabins (6 simple wilderness style log cabins with 4 bunk beds and 4 cabins for 4-8 guests with a shower, WC, sauna, TV and kitchenette).

Vuontisjärvi Wilderness Centre is located next to Pallas-Yllästunturi national park in an amazing fell and forest landscape, set by its own lake. It introduces you to the real Lappish wilderness - the nearest road is approximately 5 km away! The main chalet has 4 separate bedrooms for 4-6 guests and a large lounge with an open fireplace and lovely views. There is a loft with sleeping space for up to 20 people. The lack of electricity and running water at the location only adds to its charm. A large kota (tepee), next to the chalet, is ideal for cosy evening entertainment.
Polar Flight is based in Kilpisjärvi, but operates in the northern parts of Finland, Norway and Sweden. Our Cessna plane offers scenic flights, as well as fishing trips in the spring and summer. From our wide range of programmes, we can make a successful and unforgettable holiday in the Fell-Lapland to suit your own requirements. See Lapland from the air!
Activities by Season
We attract visitors to all of our magical locations from all over the world, not only because of our warm hospitality but for our year round varied and exciting range of activities.
When the deep autumn colours are covered by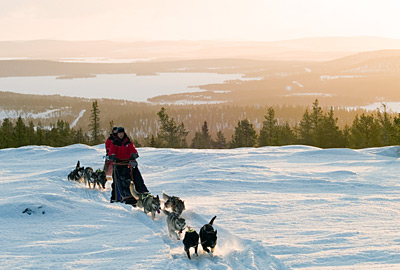 pure white snow, a whole new world of activities opens up before your eyes. We offer a vast range of activities, expertise and equipment to ensure you get the most from your adventure. From cross-country skiing, snow-shoe trekking, rally driving on ice to dog sled, reindeer and snowmobile safaris. Our most popular safaris will take you away for days through the vast wilderness. You will stay overnight in cosy wilderness cabins travelling by snowmobiles or with your own husky team. The safari programmes vary from one hour to two-week safaris! You can also combine the activities with meetings or ask for our tailor-made incentive and team-building offers.
Join us for Lapland's unique summers with clear blue lakes, beautiful fell scenery and, most importantly, the amazing never-ending days of the midnight sun. We will introduce you to exciting summer adventures, such as quad-biking, hiking, fishing, mountain biking, river rafting and horse-back riding.
The proprietors, Maria and Köpi Pietikäinen, and the whole Harriniva team, welcome you to a unique and enjoyable experience of a lifetime!
For all reservations:

Harriniva Hotels & Safaris

www.harriniva.fi / www.hotellijeris.fi / www.hotellikittila.fi

E-mail: info@harriniva.fi
Tel: +358 16 5300 300
Fax: +358 16 532 750