Product
Levi is the largest and most important winter and activity resort in Lapland and the brand is one of the strongest in Finland.
Levi is a versatile travel destination with multiple activities all year around. The main winter activities are downhill and cross-country skiing, as well as snowmobile safaris. However, Levi is also an exotic destination with reindeer farming, Santa Claus, husky safaris, horse-back riding and native Saami programmes available – actually, there are over 50 companies, offering various types of program services and products from hot-air ballooning to ice fishing and diving.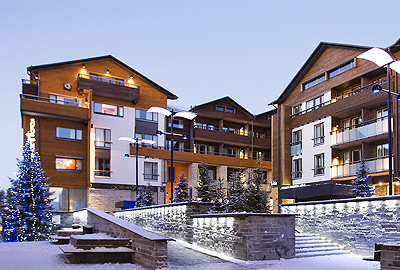 The six hotels and six apartment hotels have approximately 3 300 beds and when all the chalets, holiday homes and cottages are added together, the number has increased to over 23 300 beds. Luxury is provided not only by the setting, but also in the freedom of choice that is offered!
The beautiful village, situated on the flanks of Levi fell, provides all the services required by a visitor. Within the resort, there are 40 restaurants nearby, which can host up to 15 000 diners, serving traditional and international dishes and providing nightlife entertainment. Naturally, there are also specialist shops and basic services such as supermarkets and medical services.
Levi – Winter Destination
Levi is a ski resort that fulfils international FIS and World cup-standards. Yet, Levi is not just a ski destination, but a versatile winter destination. At Levi, you can do almost everything, all year round. Levi's expert partner-organisations, over 50 companies, offer over 1 000 products and there are exciting activities and services available all year round. There are also pre-arranged trips to choose from the changing week programme, which runs both in the winter and the summer seasons.
Read more about Levi in winter
45 slopes, of which longest is 2500 m (3 black, 23 red, 18 blue and 1 green)
15 illuminated slopes, 17 slopes replenished with snow canons and 10 children's slopes
A Snow Park, 1 half-pipe and 1 super pipe, 2 streets, Kids' land – outdoor activity centre and Tenavatokka day care
27 lifts (including 2 Gondolas and 1 chair-lift) and 10 free kid's lifts
A lift capacity of 27.600 persons / hour
230 km of cross-country tracks, of which 28 km are illuminated and 9 km are replenished with snow canons
The tracks are 182 - 378 m above the sea level
A free first-snow track, length 4,5 km/direction (altogether 9 km), the difference in heights 38 m, width 8 m
Traditional tracks on both sides, free style track in the middle.
17 skiing cafés
The cross-country season lasts from November to May
Finland's best snowmobile tracks, over 886 km, (6 – 8 m wide) including a track to the top of Levi fell
The tracks have warning signs, information signs
Snow-mobiling licenses: not compulsory, but recommended to those driving their own snowmobiles.
Track bases owned by Kittilä municipality, resting huts owned by the National Board of Forestry
Snowmobile shops and repair garages in Kittilä
Approximately 1.000 snowmobiles in the area, of which 300 are available for rental and 700 are private
60 km of hiking routes and in addition, a remarkable amount of marked trails towards Aakenus - Ylläs.
Levi Nordic Fitness Sports Park
13 routes (5 black, 6 red, 3 blue), altogether 113 km
Levi – Resort Activities
On top of downhill and cross-country skiing, Levi offers a multitude of other winter activities and experiences, such as snowmobile safaris, reindeer safaris, husky safaris, horse-back riding, visits to Santa Claus, the Northern Lights, snowshoe safaris, ice-fishing, helicopter flights, hot-air balloon flights, The Levi Olympic games, ice-hole swimming, bathing saunas, winter-rally driving, diving, rally-carting, kick-sledging, paragliding flights, Nordic walking, wilderness skills programs, wine tasting, wilderness cooking courses, Lappish ceremony. A weekly program with a wide range of programs during the winter season.

Outside the winter season, Levi offers a wide range of facilities and activities
such as Lappish restaurants, various performances and exhibitions displaying Lappish culture; a spa and indoor sports, canoeing, white-water rafting, hiking, mountain and downhill biking, summer toboggan rides, Gondola rides, a Skate Park, golf and miniature golf, tennis, horse-back riding, fishing, hunting, gold panning, wine tasting, wilderness cooking courses, a bathing sauna, diving, rally-carting, Nordic walking, wilderness skills courses, bird watching, Vespa safaris, ATM safaris, and mushroom and berry picking. A popular weekly activities program runs during the summer season from June to August.