Olos, Pallas
Olos - Peace and luxury
The Olos fell, located in the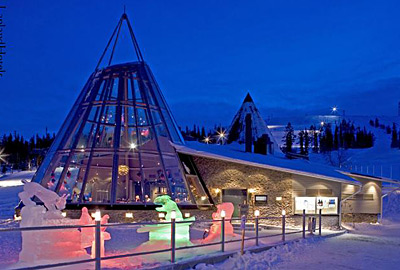 municipality of Muonio, offers well-maintained ski slopes, top-class cross-country trails and high-quality accommodation services. Enjoy a true luxury holiday at Olos, one of the noblest mountains in Lapland.
The peaceful holiday resort, located right at the foot of the Olos fell, offers various options for an active holiday. The versatile accommodation services also include luxury alternatives. The accommodation services and program services are to be found close to each right at the ski area centre. Olos is known as a traditional first-snow venue for cross-country skiers, and its long ski season usually continues until May.
Downhill skiing facts
Vertical drop 210 m
Ski slopes 10
Longest slope 1400 m
Flood-lit slopes 2
Slopes with artificial snow 1
Half-pipe 1
Children's slopes 1
Ski lifts 4
A Ski school
A Ski cafe
A Restaurant
Cross-country skiing facts
Cross-country trails 250 km
Flood-lit trails km 30
Equipment rental
A Ski service
Olos – luxury for holiday and meetings
The landscape of Muonio is characterised by its numerous lakes, rivers and brooks – and, of course, by its fells. Cross-country skiers can start skiing as soon as the first snow falls, and the skiing season culminates with the Lapponia ski race on the spring snow. Downhill skiers will find high-quality facilities for their favourite sport, right at Lapland Hotel Olos located at the foot of Olostunturi.
Lapland Hotel Olos provides a high-class venue for meetings and conferences with its luxurious 800-seater auditorium. The versatile accommodation options range from cosy holiday apartments to top-of-the-line luxury suites.
Hotel, facilities and services
Lapland Hotel Olos
Distances: Airport (Kittilä) 45 min, railway station (Kolari) 1 h, Rovaniemi 2.5 h.

Number of rooms: 195
Hotel: 69 twin or double rooms. Shower/WC, hair dryer, satellite and Pay-TV.
4 rooms with a sauna. 51 rooms with a mini-bar, water boiler, balcony, and Internet (wlan).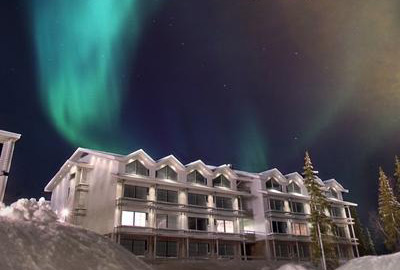 Suite hotel: 56 top-class suites for 2–4 persons, with high-class facilities.
Bathing room, whirlpool, sauna, WC, hair dryer, kitchen, mini-bar, satellite and Pay TV, CD/DVD player, iron and ironing board, clothes drying cupboard, Internet (LAN).
Apartment hotel: 26 apartments for 2–6 persons. 18 apartments with a separate living room, a bedroom and alcove. Shower/WC, sauna, hair dryer, kitchen, mini-bar, satellite and Pay TV, ironing board and iron and trousers press, clothes drying cupboard, Internet (LAN).
Holiday apartments: 44 apartments for 2–8 persons. 16 apartments in traditional round-wood buildings and 28 apartments in high-quality laminated log buildings. Number of bedrooms 1–3, some apartments with a loft. Shower/WC (large apartments with 2 WC's), sauna, hair dryer, living room with kitchen, satellite and Pay TV, clothes drying cupboard, fireplace with firewood.
Restaurants: A restaurant with a view: Polar Kota seating 150 persons / cocktail parties for 350 persons, a traditional restaurant with round-wood walls for 250 persons.
Conference facilities: An auditorium seating 800 persons, 6 conference rooms for 5 to 100 persons.
Additional facilities and services: a swimming pool and sauna, VIP sauna, a room with a fireplace, squash, a gym, 10 ski slopes, 4 ski lifts, ski rental, a ski school, program services. Located adjacent to the ski slopes and trails.
Pallas - Enjoy skiing amidst a genuine Lappish fell landscape
Pallas is one of the fells belonging to a chain of a dozen or so magnificent peaks, stretching over a distance of more than 30 km from north to south. Taivaskero, the highest of these fell tops, is over 800 m high. The vertical distance covered by the ski lifts is approx. 340 m.
The slopes of Pallas are covered with natural snow and they provide enjoyable runs on the slopes and off-piste alike. A multitude of off-piste alternatives are within easy access of the ski lifts. Equipped with ski touring skis or cross-country skis, you can explore the vast open landscape of the national park – a stress-free adventure which is certainly worth undertaking! You can choose your own route to suit your taste, experience and ability, or you can join one of the touring groups of Pallaksen Pöllöt (the owls of Pallas), a local ski school. The weekly programme of the ski school offers a selection of free-of-charge guided activities. The Pallas peaks are generally considered to provide some of the best off-piste and free-riding opportunities in Finland, with something to suit every taste. The all-out free-rider will always find new sports for dashing down the mountain in long swooping turns. Beginner and intermediate skiers, likewise, will find easy enough slopes and slope sides for practising their skills. Useful tips on enhancing one's skiing skills are provided by the ski school. Skiing is really not that difficult - just focus on continuous movements... And you can always try out telemarking, if you are in need of an extra challenge!
Downhill skiing facts
Vertical drop 340 m
Ski slopes 9
Longest slope 2400 m
Flood-lit slopes 1
Ski lifts 2
A Ski school
A Ski cafe
A Restaurant
Cross-country skiing facts
The total distance of cross-country trails 250 km
Ski rental
Ski services
Pallas national park offers Lappish landscape at its most beautiful – peace for eye and mind alike
There are not that many people who, having once visited Pallas, will not return. In fact, most visitors come back year after year. Stress-free activities, which are out in the open and in relaxing company, are what visitors come back for in summer and winter alike. Lapland Hotel Pallas has provided accommodation services at Pallas since 1948. The cosy traditional ambience of the hotel foyer and the hotel library can tell a great number of stories of visitors of the past, many of whom have donated books and other things for coming visitors to enjoy. The weekly programme has been compiled on the basis of visitors' desires: you can opt from among a range of select activities, ranging from those that you do with your downhill skis to making pancakes. The ski touring excursions led by the ski school Pallaksen Pöllöt are among the most popular of these guided activities. A guided after-ski stretching session followed by a relaxing visit to a sauna is the perfect way to round off a day out in the open!
Hotelli, facilities and services
Lapland Hotel Pallas
Distances: Airport (Kittilä) 45 min, railway station (Kolari) 1.5 h.
Accommodation capacity: 63 rooms in total.
Hotel: 15 twin/double rooms, shower/WC, clothes drying cupboard. 37
twin/double rooms, shower/WC. In the log building: 2 rooms for 4 persons, shower/WC, bunk beds. 1 room for 4 persons, shower/WC, living room and separate bedroom. 8 twin/double rooms, WC, a common shower in the corridor. All rooms with a telephone and TV.
Restaurants: A round wood restaurant seating 150, and a bar for 50 persons.
Other facilities: A fireplace room, 2 hotel saunas, Vatikuru beach sauna, winter swimming, 9 ski slopes, 2 ski lifts, ski rental, ski storage and a service room, a ski school, programme services. The ski lifts and trails are directly accessible from the hotel door.