Enontekiö
Wilderness experiences at Enontekiö – Kilpisjärvi region
Are you looking for untouched nature and wilderness experiences? In the Enontekiö-Kilpisjärvi region, you can go hiking or skiing in Finland's highest mountains, or just enjoy the peace and silence of the vast wilderness areas. Enontekiö is located in the Western part of Lapland, in the "arm" of Finland. It is a municipality of great wilderness areas, reindeers and Saami culture.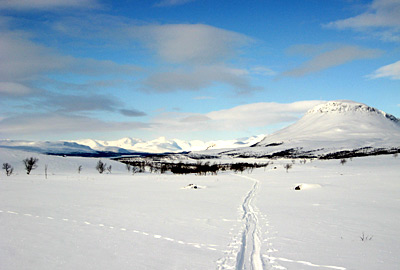 More than 75 % of the region consists of protected nature preserve, a national park and other vast wilderness areas. The municipality of Enontekiö consists of small villages, of which the largest is called Hetta. Its population is only 800 inhabitants. Hetta is located by the lake Ounasjärvi and its landmark is the Pyhäkero Mountain. Hetta is an authentic Lappish village, where you can hear and see Sámi culture. If you go on a snow-mobile or husky safari, skiing or hiking, you are almost certain to see some reindeers digging for lichen. One way to discover the beautiful mountain area and the national park in the Southern part of Enontekiö is to follow the Hetta-Pallas hiking path, which is accessible during the summer and winter seasons. The ski season begins already in November and ends in the beginning of May. Hetta Hiihtomaa (Hetta Snow Park) is a perfect ski resort for families and those enjoying cross country skiing and other winter activities. Kilpisjärvi offers challenges for those who enjoy free-riding or skiing in the fells.
Paradise for nature lovers
Whether you enjoy summer activities such as white-water kayaking, fishing, hiking or trekking, Enontekiö-Kilpisjärvi offers you a great variety of alternatives. You can start a kayaking trip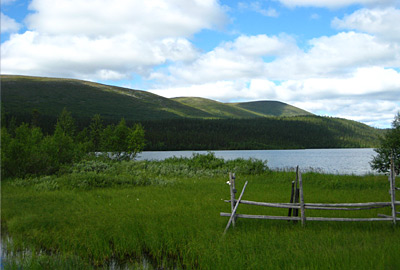 from the Kilpisjärvi and start paddling the very challenging Könkämäeno, which turns into River Muoniojoki in Karesuvanto. Or, do you fancy fishing in the wilderness lakes for some arctic char? Take a helicopter or aircraft flight from Kilpisjärvi to the remote fell lakes, or try your luck in the many rivers.
Authentic culture
In Enontekiö, you can discover the authentic Lappish culture. Reindeer herding is practised all over the municipality and you will most probably see some reindeers during your stay in Enontekiö. The inhabitants of Enontekiö are generous and they will welcome you warmly. In March, there is a Saami cultural weekend organised in Hetta, during which there is traditional joik singing performances, movies, concerts, reindeer racing and of course partying! During the spring season, ice-fishing is a popular hobby among every Finn. You can also try your luck and even participate in ice-fishing competitions organised for one week all over Enontekiö
Distance information
Kittilä airport – Hetta 142 km
Kittilä airport – Kilpisjärvi 270 km
More information
Enontekiö Tourist Information

www.tosilappi.fi
Tel. +358 400 556 215
E-mail: matkailu.info (at) enontekio.fi
Enontekiö photos: Laura Vilander