Ylläs
Discover seven fells' magic in Ylläs
The seven fells and two Lappish villages, Ylläsjärvi and Äkäslompolo, invite you to experience the real enchantment of Lapland. The rugged but easily accessible fell nature lets you experience a unique peace and purity. Pallas-Yllästunturi National Park offers magical scenery all year round.
Here on the other side of the Arctic Circle, we offer you winter magic and the realm of snow. The mystical twilight and pure snow enchant the visitor and create the desire to experience it all over again. Ylläs is an experience, even if all you do is just listen to the silence of the surrounding pure nature.
If you want action or an evening program, Ylläs is ready for you. The new service centres on both ski resorts, Sport Resort Ylläs and Ylläs-Ski, were opened for the season 2008-2009. The Sauna gondola, the one and only in the world, invites you to have a unique sauna experience with a magnificent view!
The traditional villages of Ylläsjärvi and Äkäslompolo welcome you into their friendly Lappish atmosphere. Jounin Kauppa in Äkäslompolo is the greenest "village shop" in Finland. This means they have considered the environment in particular, when building the shop. It is, in effect, a shopping centre that is perfect for browsing, even on rainy days.
If you want winter action, take a reindeer or husky sledge ride, rent a snowmobile or enjoy the widest cross-country skiing tracks in Finland. 719 meters high, Ylläs invites you to also experience her perfect slopes!
Summer magic and great experiences
Enjoy the scenic landscape of the fells and the midnight sun. Experience clean lakes and rivers. The enchanting natural beauty will help you to unwind.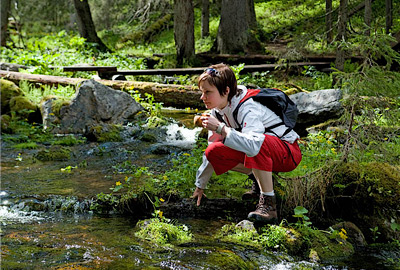 Ylläs is a summer wonderland offering a wide variety of options. Surrounded by breath-taking scenery, you can go hiking and camping in Pallas-Yllästunturi National Park or check out the fishing grounds of the region. The Ylläs region, with its seven fells, is ideal for cross-country cycling and you can even try out down-hill track cycling in the Trek Bike Park.
The enthralling light summer nights encourage you to enjoy the great outdoors. Here, you can totally relax your mind. You can also enjoy music in the heart of the summer and let your hair down at the "Ylläs Soikoon!" dance music festival in July.
There is a wide and increasing offering of accommodation, dining, shopping, programs and other services in Ylläs. Please find an updated listing at www.yllas.fi.